James Shaw III - Timeline
21 January 1920 - 3 April 2003
Birth
James Shaw was born on Wednesday, 21 January 1920 at 4:30 a.m. to Agnes and James at 47 Hill Street, Dundee. He was their first child and would be their only son.
He was baptised on Wednesday, 10 March 1920 by the Rev. George McWilliam, minister at Clepington. and his sister Agnes, (Bunty), was born 18 months later and sister Margaret five years after her.
School days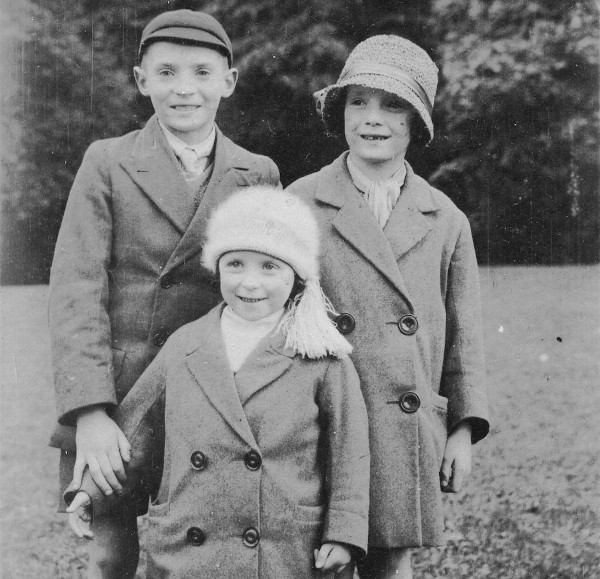 Jim (James) attended Sciennes (pronounced Sheens) Primary School and, later Boroughmuir Secondary School. In his first year he was awarded First Prize for drawing and in his second year joint Second Prize.
Because Jim's grandfather and uncle Joseph were farming at Glenboig he was able to learn to drive a tractor aged 10. At the age of 17 he obtained a Provisional Driving Licence.
As well as having a keen interest in drawing and motor cars my father enjoyed making Meccano models and constructing radio receivers. He was also a Wolf Cub and later a Boy Scout.
Rather than stay on and obtain his Leaving Certificate Jim wanted to work with motor vehicles and, against the wishes of his father, (a teacher), he left to work in the motor trade.
Apprenticeship
On 25 April 1938, aged 18, he began an apprenticeship as a motor engineer with Jack & Renwick Ltd. of West Silvermills Lane, Edinburgh. They were a sales and service agent for 'International' tractors.
Shortly after joining Jack & Renwick Ltd. Jim's headmaster, Donald MacLean, provided a letter stating that he considered Jim to have reached the standard of the Day School Certificate (Higher) but had continued in his studies beyond that level before leaving school in 1938 and that he would have been on track to obtain his Leaving Certificate.
At the end of 1938 he began Day Release classes with Heriot-Watt College and obtained passes in Mathematics, Engineering Science and Engineering Drawing.
In the 1939 - 1940 session he took Evening Classes in Engineering Drawing, Applied Mechanics and Heat Engines. In July 1940 he was awarded his OND in Mechanical Engineering with a special reference to Marine Engineering. Jack & Renwick Ltd. were reluctant to see him continue his studies, so he left their employment two days before being awarded the OND and five days later joined the RAF, aged 20.
RAF Service
After basic training and assessment at RAF Padgate he undertook training as a flight mechanic and in 1941 was posted to RAF Dartmouth, Nova Scotia, Canada to support 11 Squadron RCAF, a Coastal Command squadron operating Lockheed Hudsons. This involved working on 14-cylinder radial Pratt and Whitney Wasp engines.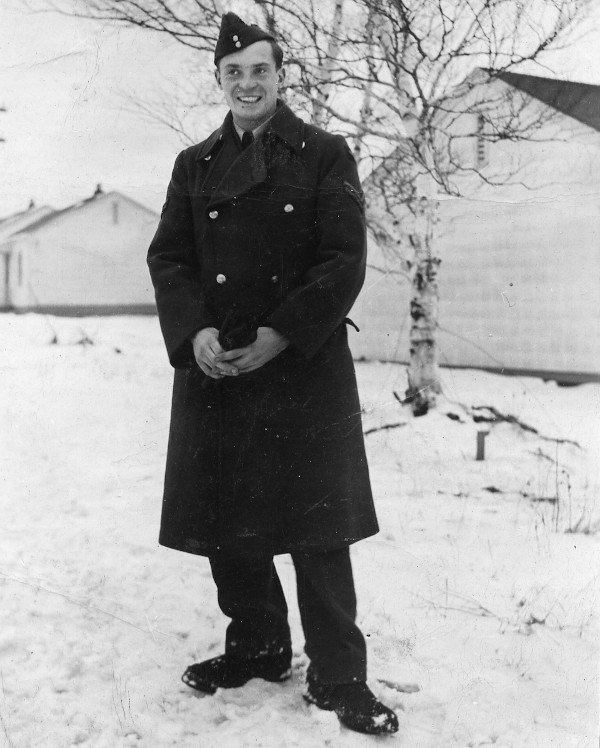 With the opening of RAF Debert, Nova Scotia, he transferred to 31 Operational Training Unit, where he was promoted to corporal. In early 1943 he returned to the UK and undertook Air Sea Rescue training at RAF Hawkhinge and later took courses on the Merlin engine and instructor training at RAF Cosford.
In preparation for D-Day he was transferred to 140 Squadron at RAF Hartford Bridge. That squadron had been carrying out photo-reconnaissance of the French coast to support Army invasion planning. By the time of D-Day they were flying day and night Mosquito sorties. After the invasion the squadron moved to advance airfields in France, quickly moving to Brussels, where they were based for five months.
They then spent five months in Eindhoven after which the ground crew were repatriated to the UK in advance of the squadron being disbanded. My father was then posted to 39 Maintenance Unit at RAF Colerne, tasked with mothballing Lancaster aircraft. While at Colerne his sister Margaret suggested that he meet up with her friend Pat who was now working on the other side of Bristol at Clevdon.
The meeting must have been successful as she was to become Jim's wife and my mother. He was discharged from the RAF in April 1946 and returned to his parent's home in Edinburgh.
Higher National Diploma
Back in Edinburgh he was able to take advantage of the special schemes to allow returning servicemen to resume their further education and joined a Second Year course in Mechanical and Electrical Engineering at Heriot-Watt, 1946-47 session.
On 20 September 1947 he married Pat, now working as a nurse at Willowbrae Children's Home, Edinburgh, at West St. Giles Church, witnessed by fellow student Robert Benzie and Margaret Shaw, friend of Pat and sister of Jim. His parents also attended the wedding service. Seven months later his mother, Agnes, died and his father two years later.
Donibristle
After completing his HND studies, in October 1949 he began work at the Royal Navy Air Repair Yard, Donibristle, Fife as an air engine fitter until June 1950. (Unaware of this history I accepted a offer to work on the same site, now an industrial estate, some thirty years later. At one time I had an office in what had been the Officers' Mess. My father was able to walk around and see the remains of the runways and brick built 'huts' that still survived).
The Rover Company
On 3 July 1950 my father moved to Birmingham to take up an offer of work as a Technical Assistant with the Rover Company in Solihull.
He worked in the Experimental Department on all aspects of Land-Rover and car development, except engines. There is some evidence that he was involved with automating group control of engine bench testing for production and other laboratory equipment.
By 1957 he had become an Assistant Develoment Engineer but working on cars only, i.e. the P4 series. In 1958 he became an Assistant Vehicle Project Engineer and then from 1959 to 1964 Vehicle Project Engineer P4.
During 1963 a new role of Brake Project Engineer was created so that in addition to his responsibilities for P4 he took on responsibilty for the brake systems of all car models, eventually to include P4, P5, P6, P8 and P10/SD1.
The following year he relinquished his P4 duties as legislatures around the world turned their attention to vehicle safety, braking systems in particular, increasing the workload of the Brake Project Engineer.
As the brake specialist for Rover he played a part in setting international standards, attending conferences in Sweden for example. He was the Chairman of the Society of Motor Manufacturers and Traders (SMMT), (the UK Motor Industry standards setting body), Braking Committee.
Various mergers had taken place within the UK motor industry resulting in the formation of British Leyland. There were plans to create a new engineering centre for the enlarged group and as part of that process my father moved out of the Solihull factory site to offices at Drayton Road, Solihull. In July 1976 he became Principal Engineer working for Development Services, later called SD1 Vehicle Development, (SD1, or Specialist Division 1, the code for the re-named Rover P10).
With the move to the new engineering centre at Gaydon he took on reponsibility for all aspects of Medium Car Development across the British Leyland Group. He retired on 20 April 1983.
St. Ninian's
In the 1950s the Presbyterian Church of England was the natural home of many an 'exiled Scot' and my father became a member of that church which, at that time, held services in the old Manor House on the High Street, Solihull. He became the treasurer and was one of the first elders appointed when the church moved to St. Ninian's purpose-built premises on Calder Grove, Solihull.
Silvermere 298th Scout Group
In 1957 he was persuaded by a friend, George Farmer, then Group Scout Master of the Silvermere, Birmingham 298th Scout Group to take up scouting again. He took on the role of Group Treasurer and Senior Scout Master, relinquishing the later role in 1963. From 1976 he was also treasurer for the East Birmingham District. On 1 November 1983 the Scout movement recognised his contribution by awarding him a 'Thanks Badge', Medal of Merit and the Long Service Award. In 1994 he gave up his roles as treasurer but continued to serve on scout committees. (His daughter Pamela took on the role of Group Treasurer).
Family
Sometime between Work, Church and Scouts my father raised a daughter, Pamela, and another son Ian, father to Jim's two grandsons, Alexander and Samuel.
At the Annual General Meeting of St. Ninian's Church in March 2003 he was commended for his 45 years of service as an elder and presented with a scroll bearing a modern version of the 23rd Psalm. Sadly he fell ill on the day of the following chuch service and was admitted to hospital. Despite appearing to have recovered he relapsed and died a little over a week later on 3 April 2003, a treasurer to the last he closed his book at the end of the financial year.