Scottie Biscotti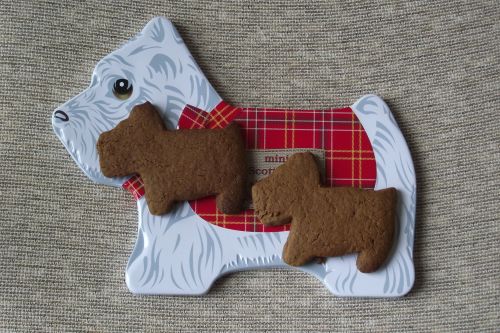 To welcome Morgan and daughter Rania from Italy I decided to make some Gingerbread Dogs. Unfortunately I had no ginger, no golden syrup and no brown sugar to hand. So instead I substituted cinnamon, treacle and demerara sugar. Otherwise the recipe was as below.
As a result the biscuits were probably a bit darker than if golden syrup had been used. To appeal to Rania I used my dog-shaped cutter, (it turns out she prefers cats but likes all the pet animals), so I ended up with 'black' dogs rather than 'white' dogs. White dogs of this shape are called 'Westies', while their black cousins are called 'Scotties' and some Italian biscuits are called 'Biscotti' hence 'Scottie Biscotti'.
Everyone agreed that they were very tasty. Future visiting students might be given the recipe as part of 'functional English', (getting them to work!).
Recipe for Gingerbread Biscuits
300g (10oz) self-raising flour
1 pinch salt
15ml (3tsp) ground ginger
15ml (3tsp) bicarbonate of soda
125g (5oz) dark brown sugar
75g (3oz) margarine
45ml (3tbs) golden syrup
1 egg
Note: The above is a gingerbread biscuit recipe. For the Scottie Biscotti in the picture use ground cinnamon, demerara sugar and black treacle.
Heat oven to 180°C, 355°F, Gas Mark 4. Grease two baking trays.
Sieve flour, bicarbonate of soda, salt and spice in a mixing bowl.
Warm sugar, margarine, and syrup in a pan. When melted add to dry ingredients.
Stir in egg and mix well to form into a soft dough.
Roll out on a floured board to 5mm, (3/16") thickness. Cut to shape.
Bake for about 10-15 minutes.
Allow to cool on the baking trays until firm then transfer to a wire rack.