James Shaw's Vehicles
Drawings, models and full-size
My father had a life-long interest in motor vehicles. He learnt to drive a tractor on his uncle's farm and obtained a driving licence as soon as possible. To the disappointment of his father he left school to serve an apprenticeship with a local garage. He was later to be persuaded to study for an OND/HND in Mechanical Engineering at Heriot-Watt College. Unfortunately the war intervened but at least he got to work on engines for the duration. After the end of the war he continued to work briefly on aero-engines at RNAS Donibristle and then moved to Birmingham to work for the Rover Company in Solihull and its successors for the rest of his working life.
He was an enthusiastic Meccano hobbyist, buying the Meccano Magazine each month for many years. His father made a wooden case, rather like that of the aspirational "No. 10" set. I inherited it and my dad made a tray drawer to fit in the top, which kept the small parts from getting lost in the bottom. (He made a special order at the local newsagent for gear parts to make a model of a split axle, differential and prop shaft for me, no doubt to encourage an interest in mechanisms. At least I learnt about 'triangulation' in structures and not to rely on friction to hold pin joints rigid!)
As a schoolboy he won prizes for his drawings and not surprisingly cars were often his subject. He either created his own designs for car adverts or used them as examples for his own art.
His father at one time owned a second-hand Hillman 14, which was garaged over a mile away from the appartment. My aunt says that it was 'a nice deep shade of blue'.
The sleek lines of this Singer 'Airstream' must have caught his eye. This drawing has an early design for a stylised signature, to be replaced post-war with a 'cartouche'
A different technique, rather like a 'lino-cut'. Little did he imagine that one day he would get to work for the Rover Company!
This painting by my father shows WS5702, the Vauxhall 10 Four car that his father bought in 1939 for £65 (less a trade in of £15 for his Hillman car). Eventually my father inherited this car, keeping it until about 1955. I don't remember this car being used very much, (shortage of money?). He used to cycle to work but then started bringing home development vehicles so we never really had a need for our own car.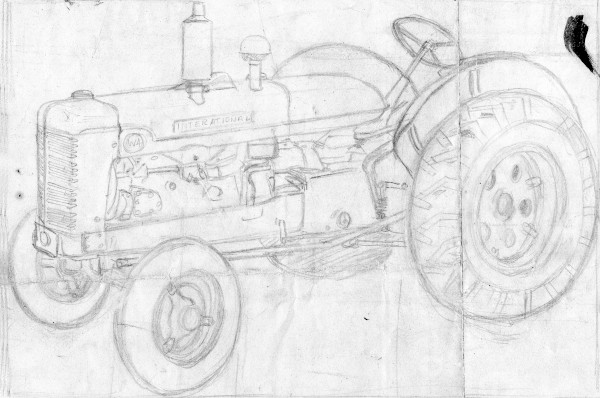 My father served his apprenticeship with Jack & Renwick Ltd. of West Silvermills Lane, Edinburgh. They were a sales and service agent for 'International' tractors. One of my childhood memories was of a scapbook made up of tractor adverts. I don't know whether it had been made for me or, more likely, made by my dad pre-war.
Just after the war he made several model vehicles. The first was a Standard Vanguard van for the eldest son of his cousin, the wife of a blacksmith. (In the event that son followed the maternal tradition and became a farmer while the younger son took up the paternal craft of smithing). I believe this model is still preserved within its own glass case, plus some of the original design sketches that I found in our loft.
One consequence of gaining a fiancée/wife was aquiring a nephew. For him he made a model lorry. It had proper steering and the bonnet could be raised to reveal a model of the engine, (I remember the aircleaner sticking up). The trailer was detachable and had a jockey wheel with a sprung toggle arrangement so that it would snap out of the way when coupled up. The sides were all hinged. Unfortunately my grandmother decided in the 1960s that it had woodworm and she threw it out.
As with cobbler's children getting the worst of the shoes, I ended up with the simplest model, based on a Willys Jeep. I guess it was also a case of having to be 'age appropriate' too. I certainly remember putting a couple of cans of Johnson's Baby Powder in the back. It was probably around until I was five or so and might have been given away.
Around that time my dad made a model milk float which stood about 10" high for a neighbours son. It was painted red and Dad made a couple of crates out of wire mesh with a few, (very few), bottles made from wood. It was a quite simple design, flat-sided, and probably made to be sat on by a toddler. It might have been based on the 'Dinky' toy of the time as the same lad got given two one Christmas. (I received two copies of Noddy Book 1 the same Christmas so we both made an exchange).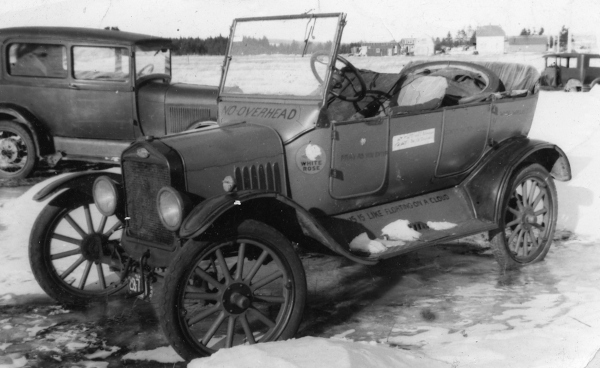 During my father's RAF service in Canada he bought a car. Unfortunately he never told us anything about it but he did have two copies of the above picture amongst his papers so perhaps this was it? Contemporary correspondance suggests that the car wasn't in the best of state.
In November 1964 Dad became owner of 'non-standard' Rover 2000 101 FGO, previously brake development car. As originally handed over it was painted grey and taxed as a 'Talago'. Over the next 10 years it changed colour to Copperleaf Red and gained an extra carburetor. By the time it came to be replaced Rover was operating what was called the Management Car Plan, effectively leasing vehicles to its employees.
These cars were each kept for 12 - 18 months, the last being sold to my father on his retirement.
PXC 216M, Rover 2200TC
LAC 66P, Austin Allegro 1750HL
VRW 366S, Austin Allegro 1750HL
DVC 124T, Triumph Dolomite 1850 Auto
EOJ 796V, Austin Princess 1700HLS
KOG 79W, Morris Ital 1700HL Estate
The following were the last of my father's cars, the first being bought new under the ex-employee discount scheme and the last two as private second-hand sales.
YVC 264X, Montego 2.0 Auto HLS
E847 HFH, Rover Sterling 2.5
K403 XFK, Rover 820SLi